Affiliate Disclaimer : Some of the links in this blog My Home Biz Now are affiliate links. This means if you click on the link and purchase the item, the owner of this website will receive an affiliate commission. Regardless, the owner of this website only recommend products or services that will add value to the readers.
One of the main disadvantages of most PLR is that multiple people can be using the same content. That means they could be competing with you for search engine rankings or even for buyers. Because of this fact, research is a great way to find your competition. We're going to look at several ways you can find your competition .
In this post we will discuss :
Finding Your Competition When Using PLR
Understanding the difference between PLR and other resell rights
5 Step Guide To Making Money From PLR
Where To Find High Quality PLR
Finding Your Competition When Using PLR
Two helpful resources to help in your search is Google and Tradebit.com. To search in Google, copy a unique sentence from your PLR article and paste it in Google and run an exact search . Always try to use a sentence that wouldn't be found in other articles if you can. For example, if you grabbed a sentence like "I closed the door" it's quite likely it will show up in other content, not just your PLR.
This same process can be used for a sales page if you're selling an eBook or some other type of information product. Simply copy and paste a unique sentence, or maybe a headline, from that page and see if Google returns any results.
If you find a match for your PLR content , click through to see if it is the exact product, how much it's sold for and which website its being sold on. You can even sign up for that marketer's email list to see how they market to their list. This can be a great way to get ideas for additional backend products for your own sales funnel.
Now let's look at Tradebit.com. Tradebit.com is the world's largest download store. where you can sell your digital products such as eBook and other information products. Search for the title of the PLR package on there to see if anyone else is selling it. Many marketers sell their digital products at really low prices. So the best solution is for you to customize your PLR product with a new title, new graphics and branding and so on. That way nobody will be able to find a cheaper competitor because as far as they're concerned, you're the only one selling it.
Understanding the difference between PLR and other resell rights
Most PLR sellers display the rights up front so you can see what you can and can't do before you buy. If they don't, it's always a good idea to check before buying in case there's a limitation that you're not comfortable with. With that in mind, let's examine a few things you need to look out for when understanding the rights provided along with the PLR.
The first thing you need to determine : how or where can you sell or giveaway the PLR product. Also note if there is a minimum selling price stated in the license. If there is no restriction on giving it away, you may have a harder time selling it – at least in its original form. Many marketers may use PLR as lead magnets, giveaways to build their email lists. So you may have a difficult time trying to sell some PLR.
Another important aspect of these licenses is what kind of rights can be passed on to your buyers. If you are able to pass along master resale or even private label rights, the product can get saturated pretty quickly.
This is more of a problem in the internet marketing niche, where many of the buyers would turn around and offer it to their own lists if they receive those rights. Ideally, you want to avoid products that let you pass along either master resale rights (MRR) or private label rights (PLR) unless you're planning to make some changes to it so it's more unique.
Here's the basics in the common abbreviations :
PLR = Private Label Rights
MRR = Master Resell Rights
RR= Resell Rights
PUO = Personal Use Only
If you're getting PLR from a monthly membership, check to see if you're able to continue using it if you cancel your membership. Some of the licenses on these sites only let you use the content as long as you're a paying member. If that's the case and you cancel, you would have to stop using or selling the PLR which could be a significant problem.
5 Step Guide To Making Money From PLR
Here's a five step guide to turn the PLR you have on your computer into a source of income.
1. Customization
Customizing purchased PLR by getting some new graphics made for it, rewrite the sales letter (especially the headlines ) and making it look different. This makes it much harder to compare the PLR you are selling directly to another offer.
2. Set Up A Website
The next stage is to get the sales page, download page and any other pages included with the package uploaded to your hosting account and ready to start taking sales. You could register a new domain for the site, but don't deliberate too much on the domain name. It's better to sell it from an existing site and actually have it selling than to wait until you find the perfect domain name.
3. Order Processing
You'll need to install an order processor to process payments on the website. There are lots of options:
– Clickbank
– 1ShoppingCart
– Nanacast
– Paypal
– Paydotcom
Don't overanalyze this step. If you have a shopping cart system in place already, use it. If not you can just set up a simple Paypal payment button. Again, having something up and running and taking orders will be infinitely more profitable than waiting until you find the right solution.
4. Connect To Your Autoresponder
You should always build a list of buyers for anything you sell, and PLR is no different. Set up an email list in Aweber , Traffic Wave or whatever service you prefer and put an opt-in box on the download page (or integrate it with your shopping cart if that's an option).
If you use an opt-in box on the download page, offer a bonus of some sort for opting in to improve your conversion rates.
5. Send Traffic To The Sales Page
Once the delivery system is set up, it's time to send some traffic to the sales page and start taking orders. There are lots of ways to do this:
– Send a promo to your existing email list
– Add it to your signature on market-related forums
– Post it to Facebook, Twitter and other social media sites.
Here's an income generating bonus for visitors to my blog!
For PLR marketing ideas and more get instant access to this free eBook: 7 PLR Questions Answered.
Where To Find High Quality PLR
Now that we discussed how to set up a website for selling PLR , where can you buy quality PLR?
Here are my 8 suggestions for the best PLR online.
This website is run by the team of Tracy Roberts and Susanne Myers . They have over 30 years of online marketing experience and offer an assortment of memberships or mini memberships in the health and wellness, business, self help niches.
There's a great resources page on piggymakesbank.com that offers recommended tools, service providers, stock images . The blog is also helpful in helping you get ideas on how to use PLR sold on the website.
Internet Slayers PLR is run by J R Lang. The PLR purchased on her website is great for 3 reasons :
the content is of very high quality, written in perfect ,conversational English, well researched and usable in all niches.
No membership requirement, only purchase what you need.
She cares about her customers. Her PLR packages are created as if she was creating it for herself. She also offers free PLR available to her customers, great discounts via email.
This website is run by Tiffany Lambert. The PLR found on plrminimart.com . was created for those without the time, resources or talent to fill their content needs.
The PLR is affordable and unique. She sends out to her list unique content , sometimes offered to a limited number of customers. So you know that your PLR would have very low competition because of her creative PLR. She also offers great deals on www.warriorplus.com .
This great PLR website is run by Yasser or Mozie. The website offers the the ultimate source for PLR content, coaching content, lead magnets, free PLR, free PLR coaching courses and reseller products. You would find a large variety of quality PLR in every niche on buyqualityplr.com.
Here's what makes the website unique :
A large supply of ready-to-go complete businesses in a box.
Instant product download with all purchases
Diverse range of product types
One of the cheapest, quality PLR online
Offer multiple customer discounts
Provide quality customer training on their blog at no cost.
Free online business coaching for their subscribers
This is a membership site run by Mark Austin. It has both a free and paid membership options. You can download over 700 free PLR and RR products with a free membership! If you decide to upgrade, there are eBooks, websites, videos, articles that are available exclusively to gold paid members. Reseller-rights-weekly also offers training on how to use PLR products to generate an online income.
Kitchenbloggers.com offers content for food, lifestyle, garden, health & wellness bloggers.
You save time and money on high quality content and food photos . Plus they offer great resources to help you grow your business. kitchenbloggers.com specializes in comprehensive product reviews, kitchen tested recipes, original food photographs, cooking articles, gardening articles ( to teach your readers how to grow their own produce and culinary herbs)

Viral Plr , owned by Frank Bauer And Aurelius Tjin.
With a silver (free) or gold ( paid) membership you get your own information products monthly to resell or give way to build your list! Great for affiliate marketers, I got a few signups as a free member before upgrading.
As a member , your benefits are :
* A brand new info product based around a hot topic.
* Automatic rebranding of each eBook with your details like your name and website on the title page
* Access to the ViralPLR Email Broadcast System which lets you build a list and mail out your offers to them.
* A landing page and sales page to promote each product you receive it every month.
* Promote each product with a unique promotion link ViralPLR provides you in the members area.
+ much, much more!
You can start for free!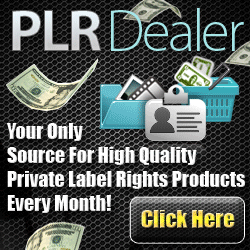 Owned by Jason Oickle. You can start as a free member and you get a monthly free download in self help, health or internet marketing niche . You can become an affiliate for PLR Dealer in Jvzoo.com by requesting on the platform. Great products that you can use in your business to build you list, get content for blog posts, or resell.
Conclusion
There are a plethora of PLR products available online in various niches. PLR products can help you generate an income. Always research the PLR you're interested in promoting, try freebies to test the product and create unique products to stand out from other sellers.